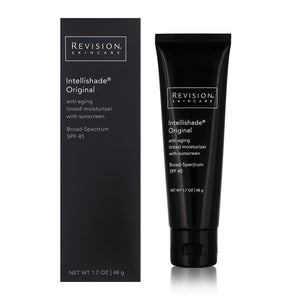 2017 NEWBEAUTY® Award Winner : Makeup that Doubles as SPF
Intellishade® Original - A 5-in-1 daily anti-aging tinted moisturizer with broad-spectrum SPF 45 that is formulated to correct, protect, conceal, brighten and hydrate skin. Prevents visible signs of aging and enhances skin's natural moisture barrier, improves the appearance of fine lines and wrinkles and brightens and evens skin tone while reducing the appearance of redness. Also protects skin from UVA/UVB radiation. The sheer mineral tint conceals and restores skin's youthful appearance.
This clinically-proven, multi-tasking formula provides 5 benefits in one step. Infused with over 20 age-defying beneficial ingredients including a powerful blend of peptides, antioxidants, botanical extracts and hydrators. A clinical study showed improvement in the appearance of clarity and brightness, evenness of skin tone, fine lines and redness after 12 weeks of once daily use*.
 
Hydrates and moisturizes to enhance skin's moisture barrier

Improves the appearance of fine lines and wrinkles
Brightens and evens skin tone
Protects the skin from UVA/UVB radiation and helps reduce photoaging (when additional sun protective measures are used)
Restores skin's youthful appearance with sheer mineral tint
Broad-Spectrum SPF 45
Available in Intellishade® (Original, Matte or TruPhysical)
NET WT 1.7 OZ | 48 g tube 
Who benefits?  Ideal for all skin types especially normal and dry skin. Excellent five-in-one daily moisturizer for those with a busy lifestyle.